I've been on the hunt for a bathing suit for Bella. I want the surf-shirt type, for the sole reason to cover her shoulders and stuff from the sun. It's where I burn the fastest and worst, and since I don't know if she'll be lie me or her daddy, I'm taking precautions. In my hunt for a bathing suit, I've come across many cute ones.. and some that would be cute if she were.. 18. Seriously.. is this what we are really dressing our small children in these days?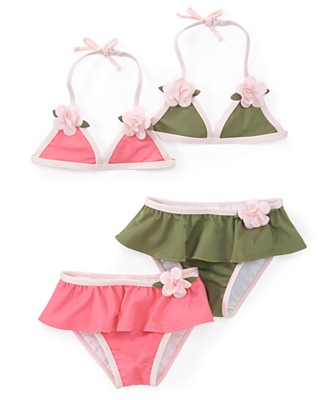 This suit can be found at Macys.com
HERE
Yes, I think it is cute, but truly inappropriate for 2 year old. (Or younger, as it also comes in 12 and 18 months!) I am all about teaching Bella to appreciate and love her body, positive self image, and to not be embarased about her body, BUT I'm also into teaching her modesty. If she's wearing this now, what will she wear when she's actually built to "fill out" a bathing suit like this?
Here is another...
You can purchase this swimsuit
HERE
Maybe it's just me, maybe *I* am the odd one out, but I just can't see why I would put her in a swimsuit like this. Maybe as she gets older and can pick one out on her own... but still.. it just looks to mature for a toddler. Bella's Nana just bought her a suit - this is the one she got:
It is super cute, has ruffles on the bottom, and you can purchase it
HERE
at sears.com
No, I don't have anything against bikini's for babies. In fact, there are some super cute ones, that don't look
like you are trying to pimp out your toddler
too "mature".
Purchase this one HERE
Of course, it's all my own opinion, and to each his own. If you like your daughter to wear little string bikini's, then more power to you.
I suppose there is never a bad time to start preparing for a career as a Playboy model.
*All opinions here are of my own, and no one asked me to write this or gave me anything or whatnot. I did it all on my own.